How a California premium winery quickly flipped its boomer-dominated consumer base to younger generations
Amid more sobering reports this month that wine is becoming an increasingly tougher sell to younger, diverse generations came two surprising signs that the industry can quickly and successfully change course.
In one case, a 140-year-old California winery discovered how to quickly shift its consumer base away from being dependent on boomers, who have been key consumers of premium wine for decades but are declining in population as they age.
And in another case, a recent social media–fed surge in demand for a historically small wine category, has led to eye-popping sales growth led by consumers who statistically don't consider wine their adult beverage of choice.
The takeaways came during a panel discussion at the just concluded three-day Unified Wine & Grape Symposium in Sacramento.
Founded in 1883, Wente Vineyards of Livermore Valley east of San Francisco had a consumer mix common for a long-running premium brand — dominated by boomers, said panelist Aly Wente, vice president of marketing and customer experience, during the session Jan. 26.
The boomer generation currently spans ages 58–76, with a median of 67 years, or just past what's typical for retirement.
But in the past three years, Wente's consumer mix flipped. It is now dominated by Generation X (ages 42–57) and millennials (ages 26–41), with boomers in third place, the fifth-generation executive said during the discussion.
"The boomers grew up with Wente on their table, and now we've successfully transitioned it down through the generations by really honing in on what matters," Wente said.
When her great great-grandfather, Carl H. Wente, started the winery, what mattered was talking to consumers about the land, the farmer, a good-quality product.
"It's worked for us for a long time, but I don't think it's going to work for the long for the future," Aly Wente said to the audience of industry professionals. "And if we want to have a 150-year-old brand, we have to really start thinking about what about our brand is authentic and real."
Wente joined the family company full-time in mid-2019 after nearly four and a half years in marketing management for Constellation Brands' fine-wine brands such as Simi, Robert Mondavi and Ruffino.
It was during market research in the Midwest for Constellation that Wente learned about communicating the beverage to consumers who are new to premium wine. The team showed a focus group a brand with a wine score of 91. Ratings over 90 usually are deemed superior or recommended by various wine reviewers' scales.
"A woman put up her hand, and she said, 'I think this is a Weight Watchers point,'" Wente said. "We live in a wine bubble. The consumer is not as educated as we think — and they don't want to be. That creates a barrier for entry. This poor lady thought that if she was going to drink this bottle of wine she would overexceed her daily calories."
In the past three years, Wente Vineyards' consumer messaging has significantly changed, from talking about characteristics of different clones of chardonnay — the winery's specialty — to focusing on who runs the company and how.
"They care that we have women leaders across the board," Wente said. "We have talked about sustainability in different ways, moving from being a farmer to what sustainability means and trying to educate while making it a little fun and personal."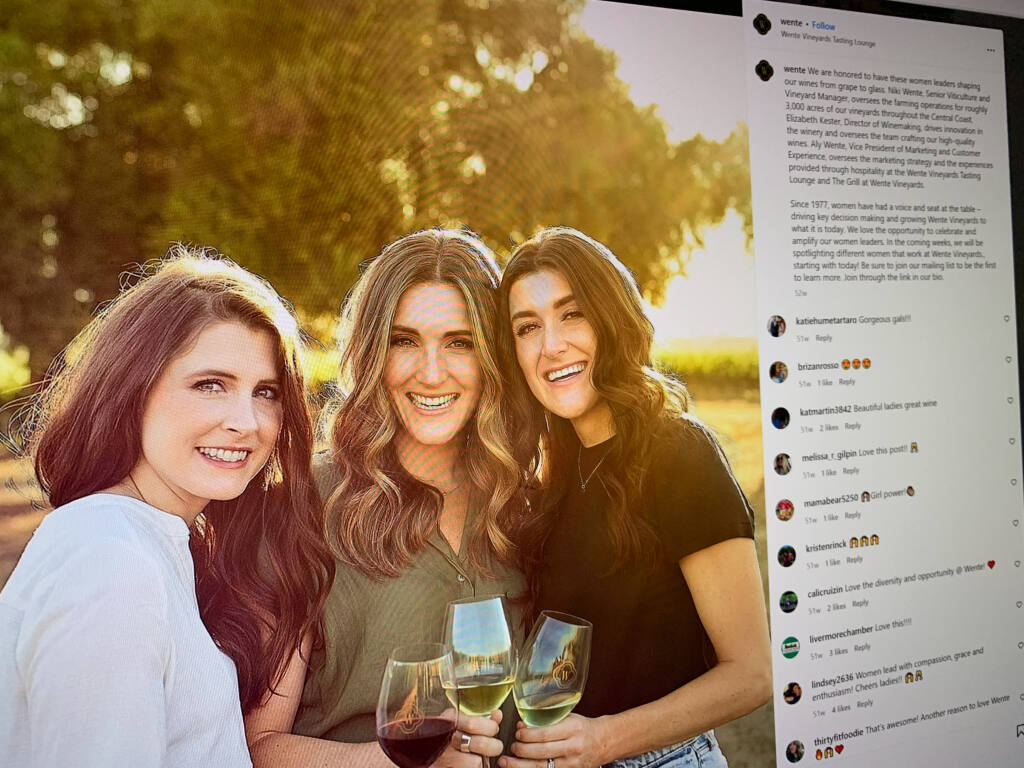 She has helped the family brainstorm on how younger consumers were engaging with social media, especially what platforms they were using to post pictures of the company's wine. And one platform that's ripe for vintners to use for wine education is TikTok, Wente said.
"They want to learn," she said about enthusiasts of the short-video platform. "They're excited to keep watching the same stories over and over. How do we build a TikTok campaign around sustainability that talks about it in a fun way?"
That same TikTok enthusiasm played a role in taking a tiny category of wine, port fortified wine, into gargantuan sales results, at a time when almost all other specialty wine categories saw declining volume of sales last year, according to panelist Dale Stratton, a consumer behavior analyst and president of Wine Market Council.