Upcoming NBBJ conferences and events
Economic Outlook Conference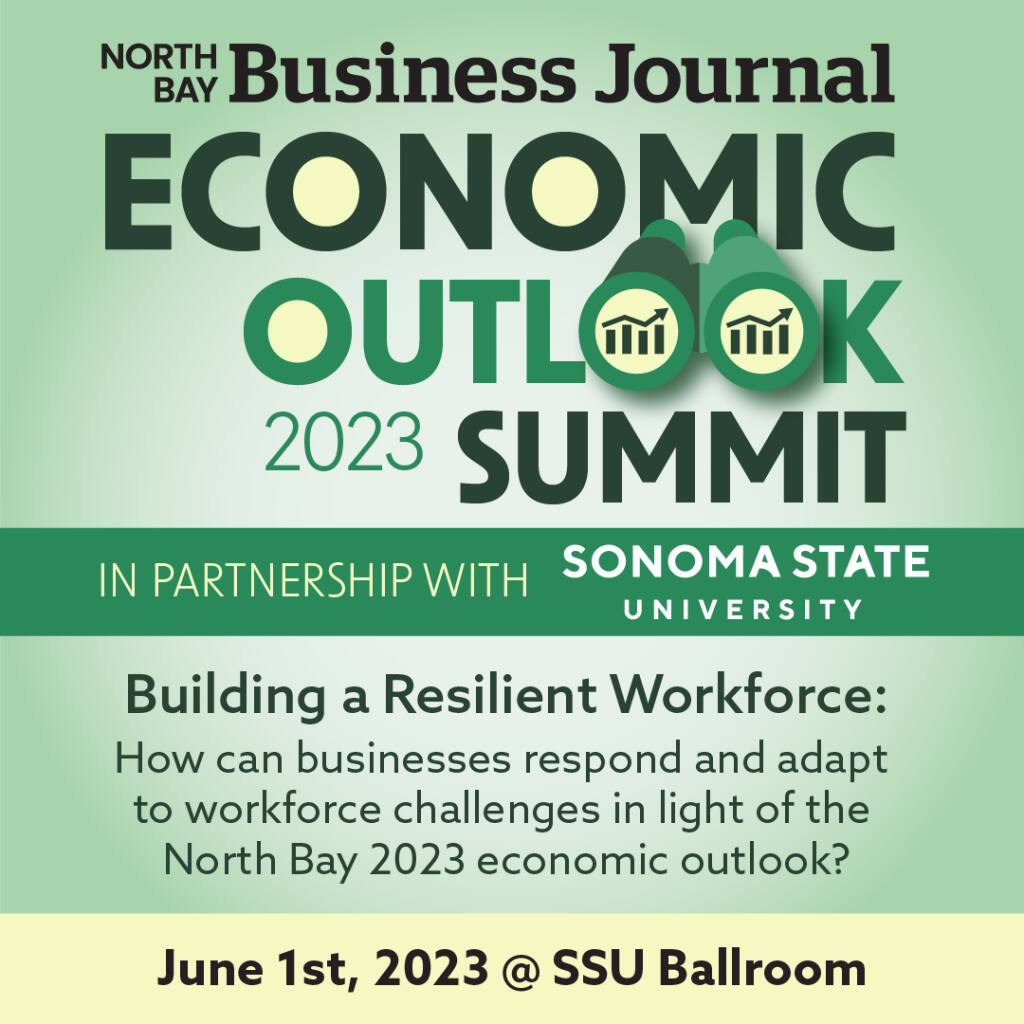 "Building a Resilient Workforce:
How can businesses respond and adapt to workforce challenges in light of the North Bay 2023 economic outlook?"
The North Bay economy, like many other regions, has experienced significant workforce challenges. As the region continues to navigate economic uncertainty, employers are faced with new challenges and opportunities when it comes to recruiting, retaining, and developing talent.
This year's Economic Outlook Conference aims to spotlight a variety of workforce hurdles and possibilities. Our guest speakers include:
Dr. Mike Lee - Sonoma State President
Senator Mike McGuire: A prerecorded address
Dr. Robert Eyler - SSU Economist - 2023 North Bay Economic Outlook Presentation including Q&A with a focus on what economic factors could ATTRACT workforce to the North Bay.
Panel: "Exploring Creative Solutions for the Shortage of Workers in the North Bay Region"
Zachary Kushel- Marin Sonoma Impact Ventures
Bruce Wilson- Workforce Alliance of the North Bay
Presentation: Ryan Bauxbaum Next One staffing– "Reimaging Recruitment: Practical Strategies, Tips, and Techniques for Effective Hiring in Today's Competitive North Bay Job Market"
Panel: "The Power of Culture: How to Develop a Strong Business Culture to Boost Employee Retention and Recruitment"
Jamie Horst, Chief Purpose Officer, Traditional Medicinals
Leslie Camino, Sr. Director, Corporate Leadership Development & Culture, Keysight Technologies
Event Details
Date: June 1, 2023
Registration & Networking | 7:45 - 8:30 am
Program | 8:30 - 11 am
Where: Sonoma State University Ballroom, 1801 East Cotati Ave., Rohnert Park
---
Influential Women Awards Ceremony
Join us to celebrate all of our nominees and our awardees this year for our Influential Women Awards. We had the largest amount of nominees ever and are so excited to get all of these amazing women in a room to celebrate. This will be more of a networking mixer and social than a sit down event.
When: June 14th, 2023
Time: 4PM Networking starts on the Prelude patio at the Green Music Center at Sonoma State University
5:15PM - Celebrate our 2023 Influential Women Awardees
Get tickets to join in this celebration.
Leadership Conference: Building your personal leadership brand
Date: Oct. 5, 2023
The North Bay Business Journal's Leadership Conference will offer an overview of relevant topics to businesses today that will enable participants to make better business decisions and advance their career. Workshops will be led by industry professionals, tailored to explore core business concepts presented to provide knowledge that can be immediately applied to a business or organization.
Request for workshop presenters: APPLY HERE
---
Best Places to Work
SAVE THE DATE: Sept. 13, 2023
Where: Graton Resort and Casino
Companies selected as Best Places to Work in the North Bay will be celebrated at this event held at Graton Resort and Casino. These businesses that are selected and win is based of several criteria, including the employer application, the survey ratings by employees, the number of responses, size of the company, the breakdown of responses from management and non-management as well as written comments by employees.
We hope to see you there to celebrate these amazing North Bay Businesses and are gracious to our hosts Graton Resort and Casino.
---
Diversity in Leadership Awards
October 2023
Stay tuned for more information!
Gold partner: Exchange Bank
---
Excellence in Construction Awards
November 2023
Stay tuned for more information!
Gold partner: Exchange Bank
---
CEO Spotlight Reception
Thursday, Dec. 7, 2023
Stay tuned for more information!
Paradise Ridge Winery, Santa Rosa
---
Book of Lists 2024
January 2024
Stay tuned for more information!
Book sponsor: Exchange Bank
---
Questions? Email our events team HERE